f
La Murga De Molinos De Viento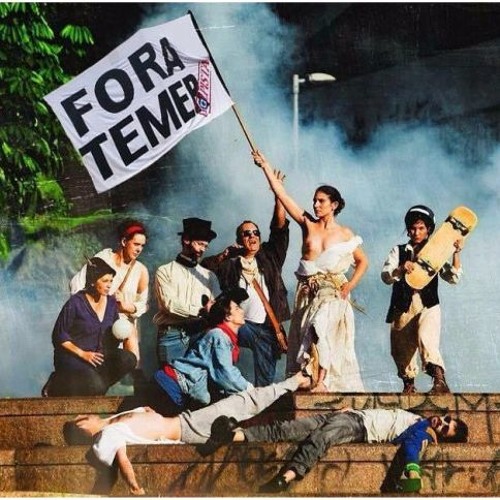 Statistics
Year/Week:
2016/39

starfrosch plays
89

starfrosch downloads
31
31 de agosto de 2016 nunca será esquecido. Fora Temer. Juventude contra o golpe.
Inspirado no carnaval uruguaio (murga).
Crítica irônica a todos que apoiaram o GOLPE do colarinho branco.
Baixo composto e tocado por Daniel Baptista Gonçalves.
Coração valente.


Letra:

Todos vão dizer "Vive la France"
mas ninguém vai dizer "Vive la Differénce".
Vamos a Paris tomar café;
Fascistas enrustidos em bomboniéres.

Faculdade de Direito vai fazer
meu filho branco, hétero, cidadão de bem.
Posto fotos do protesto na interne-
Crise de cu é rola, quem paga o pato é você.

Se eu quero eu vou lá vencer:
mérito meu mas e vós missê?

Liberdade de expressão não é relati-
O direito de ir e vir só vale para mim.
Um menino preto tenta ir à praia,
na Rebouças é parado: o racismo nunca falha.
Fundamentalismo religioso é no Islã,
mas se meu filho é viado vai para o Divã.
Revolução de 64 só fez bem,
batiam no vagabundo e o trabalhador seguia a lei.

Putas aborteiras devem morrer.
Comuna vá pra Cuba se fuder.

----

No dia 31 de agosto de 2016 a presidenta democraticamente eleita foi afastada através de um processo ilegítimo de impeachment orquestrado pelo Legislativo juntamente da Mídia golpista que ao longo dos anos organizou uma massa de manobra verde e amarela que simboliza o conservadorismo brasileiro, muitas vezes machista, racista, homofóbico, transfóbico, ignorante, egoísta, estúpido e retrógrado.
Independente de partidarismo para com a direção do governo Dilma, não devemos permitir que outro atentado contra a democracia aconteça no Brasil e passe impune.
Lute pela democracia, Coração Valente.
License Information
Attribution: You must give appropriate credit, provide a link to the license, and indicate if changes were made.
starfrosch is donation based. Please
donate
and copy the credits to your work. Thank you very much.
This Royalty Free mp3 download is free like free in freedom.
Say thanks
Crediting is always required, appreciated and allows artists to gain exposure.
Recommended Royalty Free MP3 Download