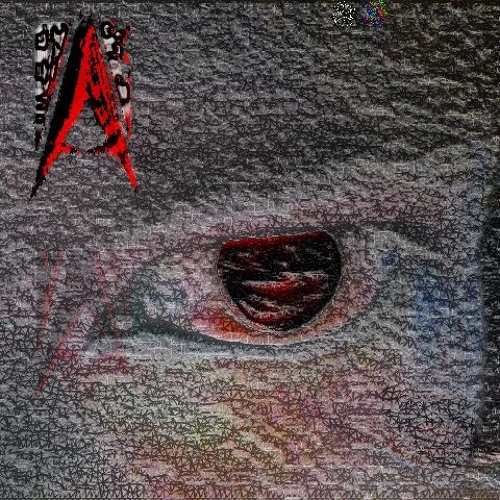 Statistics
Year/Week:
2016/16

starfrosch plays
739

starfrosch downloads
77
If you use this song somewhere for any reason, I request that I be mentioned and given a link.

This piece is about how the world around us attempts to blind us with light, how it tries to hide the cruelty of reality. One's true nature comes out when you show that you can see through their false hopes and "innocent white lies". They may "mean it for the best", but it doesn't help our future generations to become stronger.
It is also about how death is terrifying to most, because it is both aspects of fear, the unstoppable, and the unknown. Not knowing when it will happen, but it WILL happen, so people try to grasp on to any weak belief that there is more after this life to comfort theirselves.

This being my first post, I gift it as a free download for you to spread the word. I am grateful for your time.

-----

Wenn Sie das Lied verwenden irgendwo aus irgendeinem Grund fordere ich, dass ich einen Link genannt und angegeben werden.

Dieses Stück ist, wie die Welt um uns herum versucht, uns mit Licht zu blenden, wie es die Grausamkeit der Realität zu verstecken versucht. Eine wahre Natur kommt heraus, wenn Sie zeigen, dass Sie durch ihre falschen Hoffnungen und "unschuldige weiße Lügen" zu sehen. Sie können "bedeuten sie für die beste", aber es ist nicht unsere zukünftigen Generationen helfen, stärker zu werden.
Es geht auch darum, wie der Tod für die meisten ist erschreckend, weil es beide Aspekte der Angst ist, die nicht mehr aufzuhalten, und das Unbekannte. Nicht zu wissen, wann es geschehen wird, aber es wird passieren, so dass die Leute versuchen, jeden schwachen Glauben zu begreifen an, dass es mehr nach diesem Leben ist theirselves zu trösten.

Dies ist mein erster Beitrag, ich Geschenk es als kostenloser Download für Sie das Wort zu verbreiten. Ich bin für Ihre Zeit dankbar.

-----

あなたが何らかの理由でどこかにこの曲を使用している場合は、私が言及したとのリンクを与えられることを要求します。

この作品は、私たちの周りの世界が、それは現実の残酷さを隠そうとどのように光で私たちを盲目にしようとする方法についてです。あなたは彼らの偽の希望と「無実の白い嘘」を通して見ることができることを示しているときに一つの真の性質が出てきます。彼らは"最高のためにそれを意味する「かもしれないが、それは私たちの将来の世代が強くなるためには役立ちません。
それは恐怖の両方の側面、止められない、と不明であるため、それは、死がほとんどに恐ろしいされるかについてもです。それが起こるのだろうときに知っているが、人々はtheirselvesを慰めるためにこの人生の後に、よりがあることを任意の弱い信念に上把握しようとするので、それが起こるわけではありません。

このされて私の最初のポスト、あなたは言葉を広めるための無料ダウンロードとして私の贈り物を。私はあなたの時間を感謝しています。

-----

如果你的地方使用這首歌以任何理由,我要求我被提及,並給出一個鏈接。

這件作品是對我們周圍的世界是如何試圖與光,它是如何試圖掩蓋現實的殘酷盲目我們。一個人的真性情出來,當你表明你可以通過其虛假的希望和"無辜的善意的謊言"看到的。他們可能"的意思是求最好",但它並不能幫助我們的後代變得更強。
這也是對死亡是如何怕人最大,因為它是恐懼這兩個方面,勢不可擋,和未知。不知道什麼時候會發生,但它會發生,於是人們試圖掌握到任何微弱的信念,有更多這樣的生活後,安慰過問。

這是我的第一篇文章,我的禮物是免費下載,為您流傳著一句話。我對你的時間感激。

-----

Si utiliza esta canción en algún lugar por cualquier motivo, solicito que se me citado y dado un enlace.

Esta pieza es acerca de cómo el mundo que nos rodea intenta cegarnos con la luz, la forma en que trata de ocultar la crueldad de la realidad. La verdadera naturaleza sale cuando usted demuestra que se puede ver a través de sus falsas esperanzas y "mentiras blancas inocentes". Pueden "significa que para el mejor", pero no ayuda a nuestras futuras generaciones para ser más fuertes.
Se trata también de cómo la muerte es terrible para la mayoría, porque es ambos aspectos del miedo, el imparable, y lo desconocido. Sin saber cuándo va a suceder, pero va a suceder, por lo que las personas tratan de captar a cualquier creencia débil que hay más después de esta vida a la comodidad theirselves.

Siendo este mi primer post, me regalo como una descarga gratuita para que usted pueda correr la voz. Estoy agradecido por su tiempo.
License Information
Attribution: You must give appropriate credit, provide a link to the license, and indicate if changes were made.
starfrosch is donation based. Please
donate
and copy the credits to your work. Thank you very much.
This Royalty Free mp3 is no longer available for download
Say thanks
Crediting is always required, appreciated and allows artists to gain exposure.
Recommended Royalty Free MP3 Download