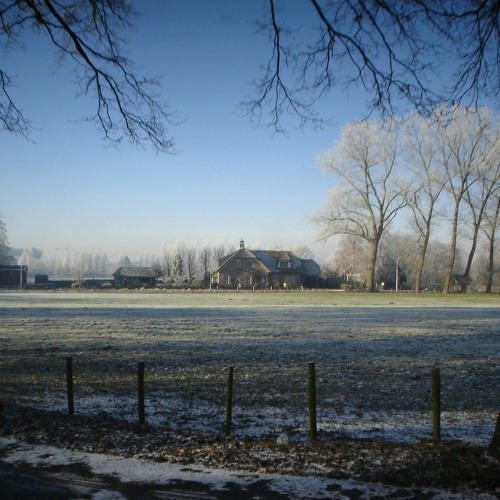 Statistics
Year/Week:
2016/1

starfrosch plays
13

starfrosch downloads
3
Música composta, produzida, gravada, mixada e pseudo-masterizada por mim ao longo de dois dias no meu quarto. Gostaria de agradecer a Satanás, Teixeirinha e Oswald de Andrade.
---------------------------------
Letra:

Ana acorda, faz café
fuma um cigarro na varanda e diz:
"Não vou mais fazer do mesmo"
mas o dia é sempre o mesmo.

Bota a saia, bota a máscara
bota fé de que não vai chover
e que vai sair de sandália,
mas com esse tempo não vai dar.

Ana
não quero discutir
porque eu tô só por ti.
Pega o meu calor.
mas não vá se queimar.
Põe o protetor solar.

Sobre e a rua e pedala
enquanto na calçada
jaz um velho com sangue na mão:
morte por caminhão.

Pega o parque e segue adentro
da agência que tem gente que quer inventar
um novo jeito de vender colchão;
propaganda na televisão.

Chora no banheiro
mas aguenta o dia inteiro
com na garganta o desespero.
Almoça só num banquinho,
desenhando num caderninho
com um traço bem fraquinho.

A labuta lhe assola.
O nome de seu gato é Frajola.
Deixa o vento bater.
Ela é a menina que não quis crescer.

Curvas retilíneas;
o deserto mais úmido de todos
é a porra do Saara;
isso não rima nem faz sentido.

Mil jeitos de se perder;
nenhum motivo pra não beber,
o chefe escroto nem vai perceber.
Tem que fazer o TCC.
Ana eu amo você.
Por favor não vá se perder.

Chega em casa, tira a saia,
senta no sofá e fala:
"Meu bem, tá foda de viver
to cansada de sofrer".

Saca a rolha, pega a taça,
serve o vinho, traga a fumaça,
bate a cinza numa lata;
assiste um filme que não tem graça.

Deita e lê um De Assis;
perfume aroma de cassis.
Tá sem sono se vira e diz:
"Como anda aquele plano
de ir pra Itália no fim do ano?".
Assovia "O Vento Minuano".
License Information
Attribution: You must give appropriate credit, provide a link to the license, and indicate if changes were made.
starfrosch is donation based. Please
donate
and copy the credits to your work. Thank you very much.
This Royalty Free mp3 download is free like free in freedom.
Say thanks
Crediting is always required, appreciated and allows artists to gain exposure.
Recommended Royalty Free MP3 Download